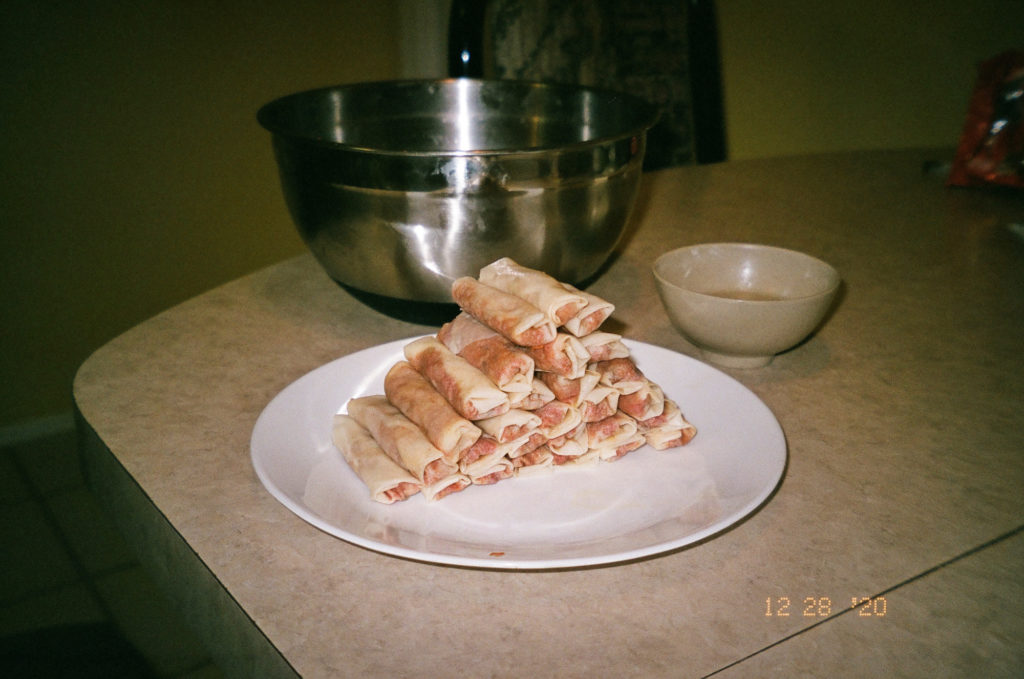 In 2015, I decided to go vegetarian and since then, I have developed my passion for food. But in the last year, my passion for food shifted towards the relational aspects of what nourishes us. In 2020, we all witnessed as the world grappled with COVID-19, which allowed many of us to value community initiatives far more than before. I also watched as the world stood up to systemic and covert racism, especially against people within the Black, Indigenous, and Asian communities. I watched as numerous family-owned restaurants shut down during the pandemic, like those in Chinatowns around North America. My friends and I were pushed to unpack our own internalized biases and racism. I was led back into Asian cuisine. I mean, I had the time for it now under lockdown, right? The pandemic forced me along the path of reclaiming my traditional foods (vegetarianized), with numerous ups and downs in the kitchen. 
If you know anything about traditional Filipino food, you know that it's meat intensive. Because of that, I have barely eaten Filipino food in the past 6 years of being vegetarian, and most of the recipes I have cooked were 'western' styled cuisine. So when I made vegan lumpia to end off 2020, my heart was more full than my stomach. Since our lives have shifted largely towards a digital domain, I looked to content creators for inspiration. I followed BIPOC plant-based Instagrammers like @chez_jorge, @thecanadianafrican, and @the.korean.vegan in order to learn more about diverse cultural foods that I could eat as a vegetarian. I also found accounts that lit something in my heart. @godofcookery, @sophia_roe, @chinatownfoundation, enable an online and accessible learning experience based on respectability politics in the food industry. I have definitely grown due to these people in understanding the sacredness of cultural foods. I urge you to do the same.
P.S. I hope you enjoy the lumpia as much as I did! Lumpia represents celebrations, gatherings, and community. Since most Filipinos know how to make them, you can always find them at our functions. My favourite thing about Lumpia is that you can alter the ratio of ingredients depending on what you and your family likes!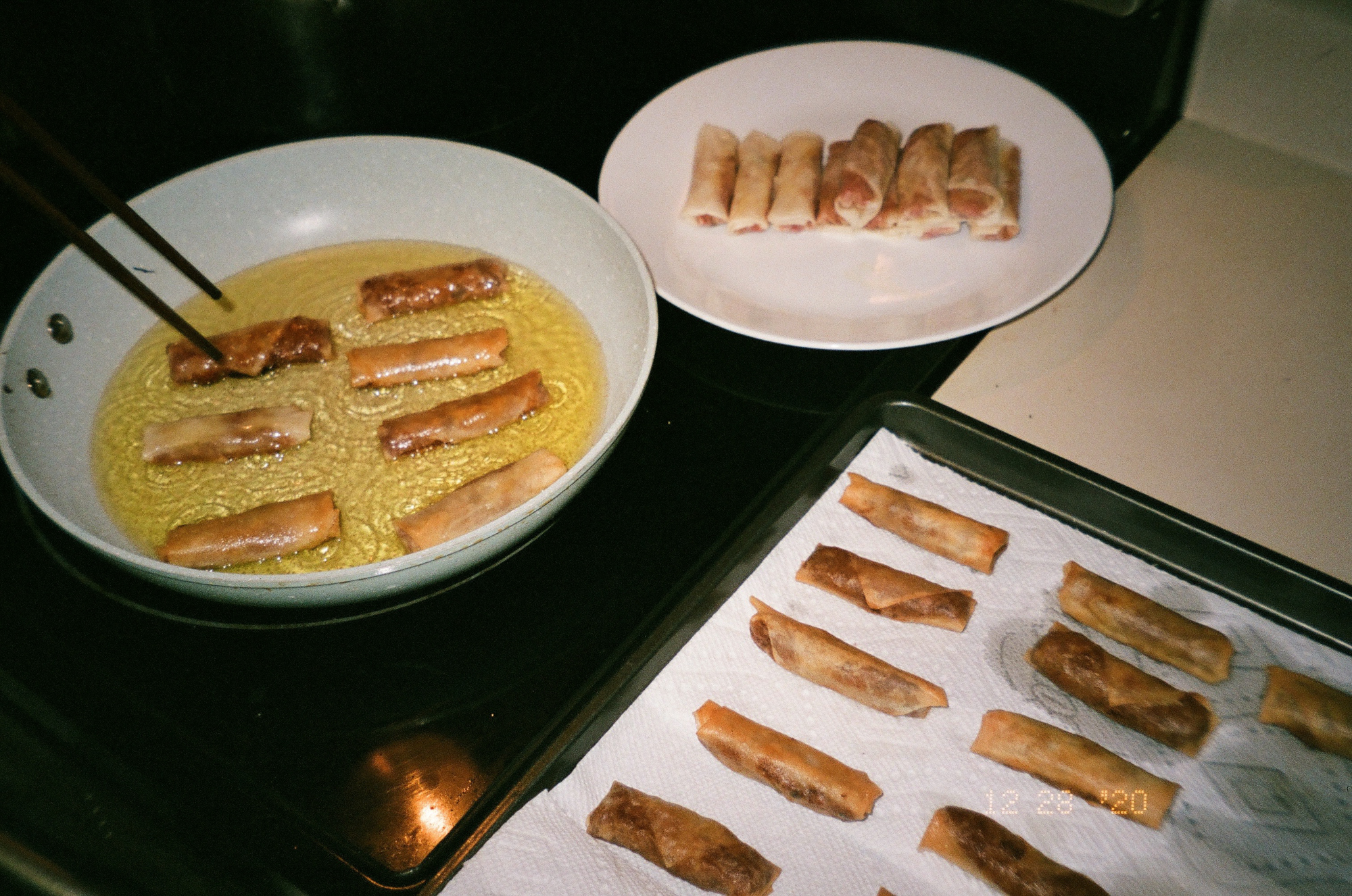 Print
Vegetarian Lumpia
Ingredients
Filling
1

medium sized carrot

,

grated

½

white onion

,

diced

4

garlic cloves

,

minced

8

dried shiitake mushrooms

,

rehydrated and diced

340

g

meat alternative

,

I used "Impossible: Burger Made from Plants"

salt and pepper to taste

optional: ¾ of an egg
Wraps + 'glue'
½

pack of spring roll sheets cut into quarters (see Notes)

1

tbsp

cornstarch or flour

100

ml

of warm water

optional: ¼ of an egg instead of the cornstarch or flour slurry
For frying
¼

inch

layer of vegetable oil in skillet
Instructions
Mix all of the filling ingredients in a medium sized bowl. Add salt and pepper to taste, and feel free to add more or less of any of the ingredients, based on your preferences. Lumpia is fun because you can freestyle it to match your preferences! If you are not vegan, adding ¾ egg allows the ingredients to stick together more coherently.

In a ramekin, whisk cornstarch or flour into warm water. This will act as 'glue' for your spring roll sheets. Using ¼ egg is more secure, but if you are vegan then cornstarch and water will work just fine.

Place a quartered spring roll sheet onto a flat surface (I used a plate) ensuring it is in the shape of a diamond, and not squared. Add about ½ a heaping tbsp of filling, in the shape of a log, onto the middle of your sheet. The filling should be horizontal. You're going to fold the right and left corners in, and place them on top of the filling. Pull the bottom corner up. Do this with love and care, you don't want to break the wrapper!

Use your finger to glide the 'glue' onto the top corner of the sheet, and roll the lumpia so it sits on top of the glue.

Repeat for the next ~30 rolls. Don't worry, you will get better and faster as you practice (assemble a small pandemic-responsible team to make this process more enjoyable).

Pour ~1/4 inch of oil in a skillet on medium heat. After about 4 minutes, you can test the oil by placing a chopstick in it; if the chopsticks bubble then you're ready to go!

Place lumpia, sealed-side down, into the skillet, ensuring they are not touching. Wait about 2 minutes, or until they are golden brown, and flip them with chopsticks or a set of tongs. Do the same on the other side and place them onto paper towels placed over a tray. The paper towels will absorb excess oil.

Serve with your choice of spicy banana ketchup, sweet and sour sauce, or good old ketchup.
Notes
If you are vegan, make sure to double check that your spring roll wrappers do not have any egg in them, as many do!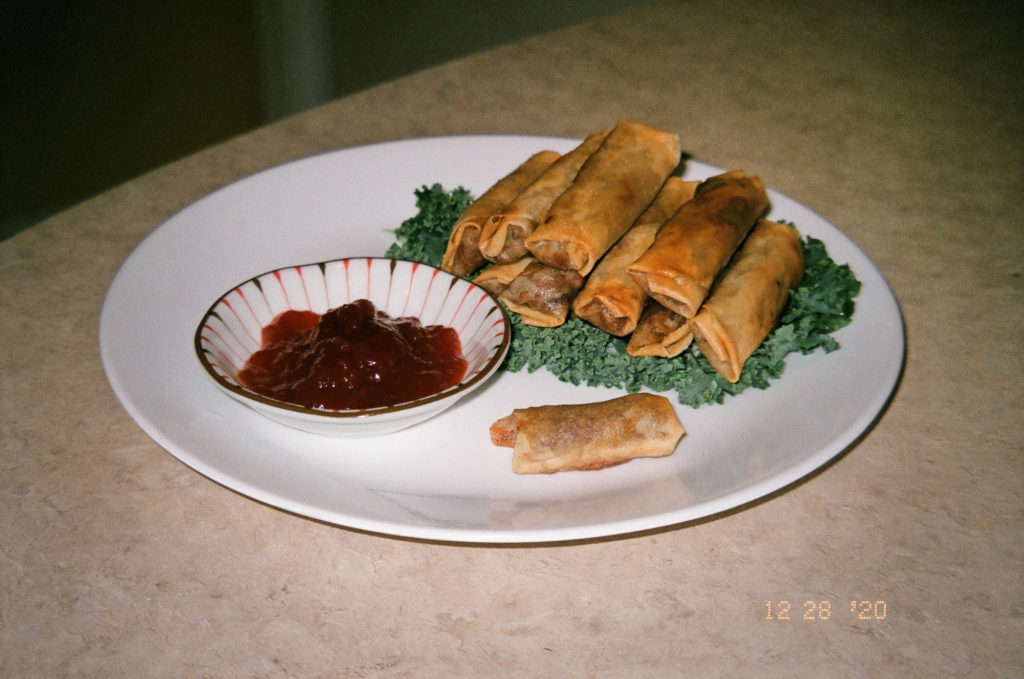 Desiree Gabriel
(She/Hers)
Desiree (IG: @desireegabriel) is a Filipina-Canadian pescatarian. She studies environmental geography and urban studies at UBC, and spends the free time she can muster by cooking (obviously), playing piano, snowboarding, reading, sketching, and watching anime. She is currently learning ASL and Japanese, and relearning French and Tagalog. If you are also practicing these languages feel free to message her to become language learning buddies!