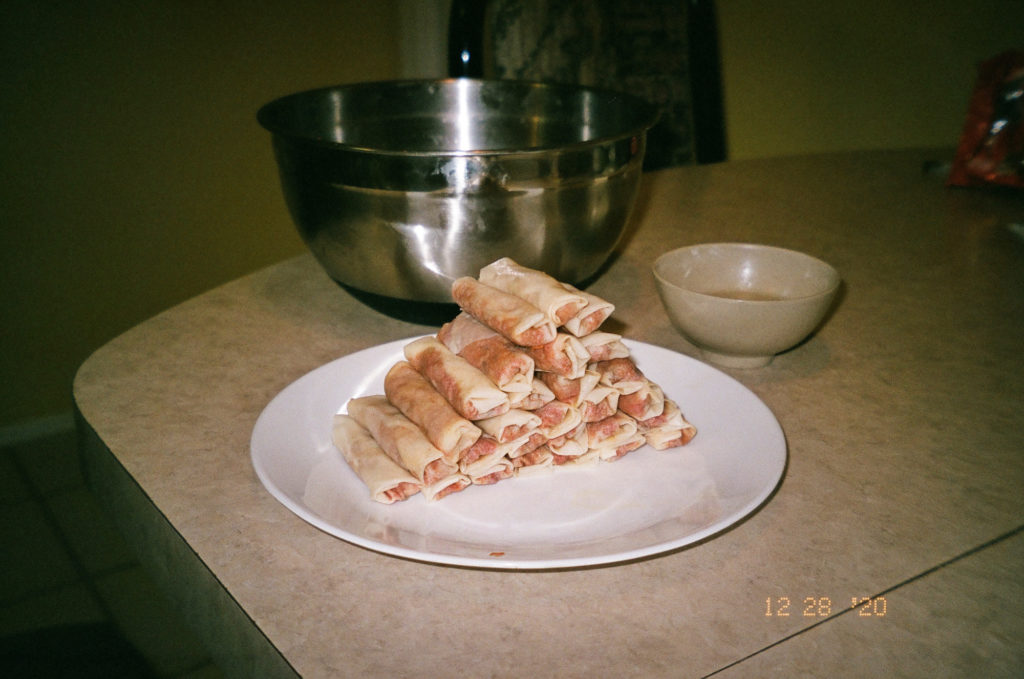 In 2015, I decided to go vegetarian and since then, I have developed my passion for food. But in the last year, my passion for food shifted towards the relational aspects of what nourishes us. In 2020, we all witnessed as the world grappled with COVID-19, which allowed many of us to value community initiatives far more than before. I also watched as the world stood up to systemic and covert racism, especially against people within the Black, Indigenous, and Asian communities. I watched as numerous family-owned restaurants shut down during the pandemic, like those in Chinatowns around North America. My friends and I were pushed to unpack our own internalized biases and racism. I was led back into Asian cuisine. I mean, I had the time for it now under lockdown, right? The pandemic forced me along the path of reclaiming my traditional foods (vegetarianized), with numerous ups and downs in the kitchen. 
If you know anything about traditional Filipino food, you know that it's meat intensive. Because of that, I have barely eaten Filipino food in the past 6 years of being vegetarian, and most of the recipes I have cooked were 'western' styled cuisine. So when I made vegan lumpia to end off 2020, my heart was more full than my stomach. Since our lives have shifted largely towards a digital domain, I looked to content creators for inspiration. I followed BIPOC plant-based Instagrammers like @chez_jorge, @thecanadianafrican, and @the.korean.vegan in order to learn more about diverse cultural foods that I could eat as a vegetarian. I also found accounts that lit something in my heart. @godofcookery, @sophia_roe, @chinatownfoundation, enable an online and accessible learning experience based on respectability politics in the food industry. I have definitely grown due to these people in understanding the sacredness of cultural foods. I urge you to do the same.
P.S. I hope you enjoy the lumpia as much as I did! Lumpia represents celebrations, gatherings, and community. Since most Filipinos know how to make them, you can always find them at our functions. My favourite thing about Lumpia is that you can alter the ratio of ingredients depending on what you and your family likes!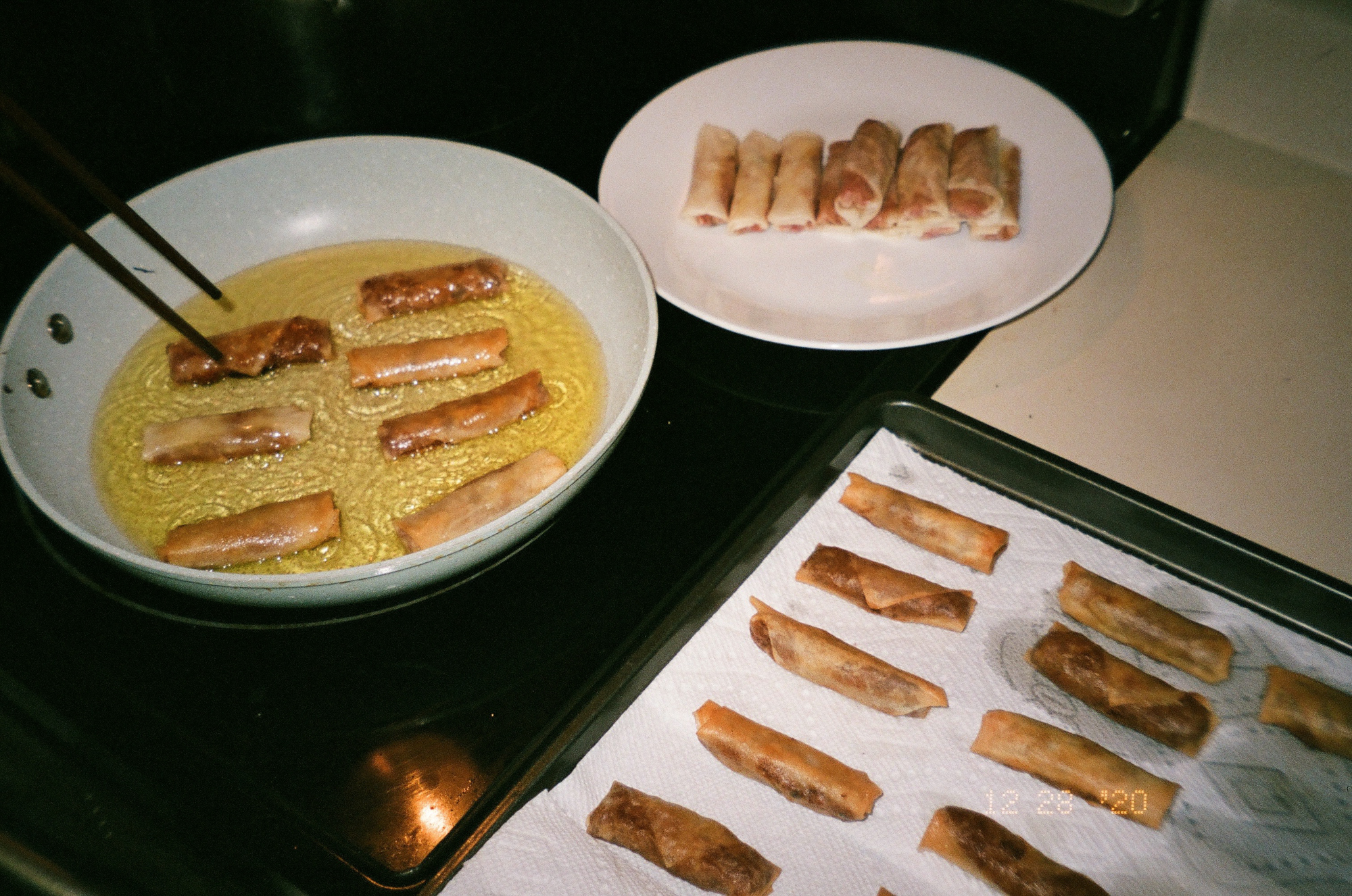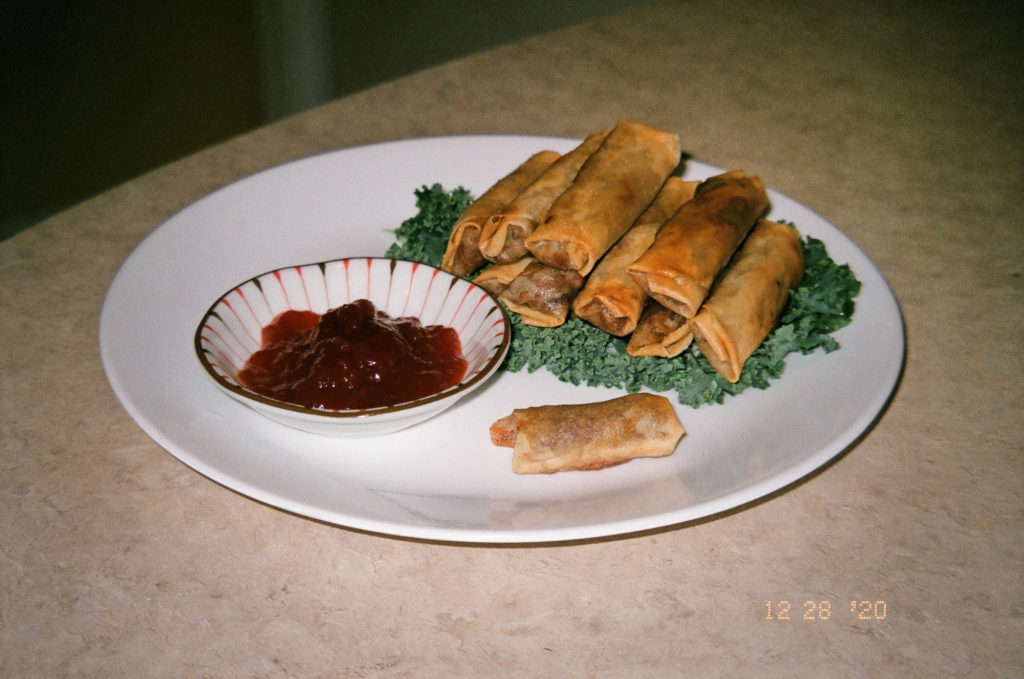 Desiree Gabriel
(She/Hers)
Desiree (IG: @desireegabriel) is a Filipina-Canadian pescatarian. She studies environmental geography and urban studies at UBC, and spends the free time she can muster by cooking (obviously), playing piano, snowboarding, reading, sketching, and watching anime. She is currently learning ASL and Japanese, and relearning French and Tagalog. If you are also practicing these languages feel free to message her to become language learning buddies!