Every culture has a recipe for a warm and comforting soup or stew dish, from congee, to borscht, to chicken noodle soup, to pho. Sambar sadam, also known as bisibelebath, is a South Indian version of that warm stew comfort: a base of lentils and rice, cooked with plenty of spices and veggies, that's always gluten-free and can be vegan if you use oil instead of ghee. 
To make this dish, you'll need an InstantPot and you'll need some specific Indian ingredients, including sambar powder. You can get it at any Indian grocery store or on the internet, or even make your own following a recipe from the internet, if you're feeling very ambitious.
These are the instructions my mom told me, which don't do ingredients first/steps second, but mixes steps and measurements together, so read through it first and then figure out what you need, like I did. She also had to force herself to exactly measure out what I needed for the recipe, because I don't have her instincts learned over decades of mastering these dishes. She usually measures out spices in her palm and chucks them into her cooking, which does not work for me, mostly because we have different sized hands. Also disclaimer that she was adapting what sambar sadam usually consists of to what she knew I had in my kitchen, so other recipes out there are probably more accurate, while this one is simplified.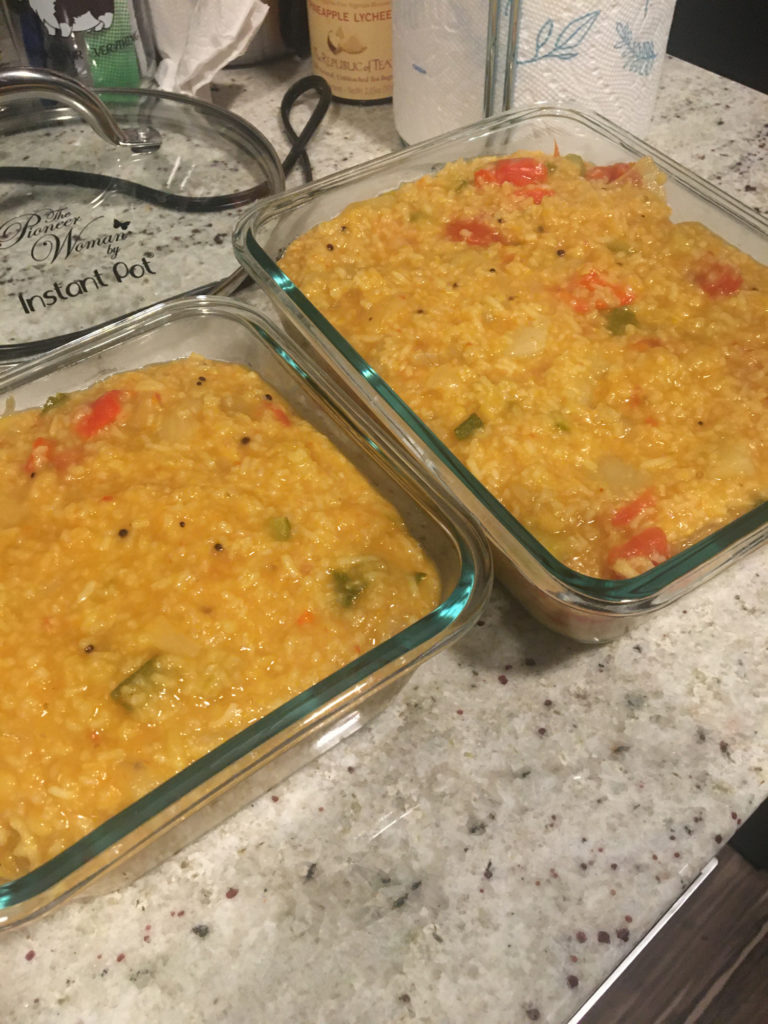 1. Put 1/4 cup toor daal (yellow lentils) and 3/4 cup rice into a bowl and cover with water. Use your fingers to swish the daal and rice around in the water to clean off any dust or other particles and slowly drain the cloudy water. Do this 1-2 times more, until the water is less cloudy. Set aside.
2. Chop one medium onion (any color), one bell pepper (any color), one potato (preferably Russet), one medium zucchini and two Roma/small tomatoes.1
3. Turn on the sauté setting on the InstantPot and heat 2 tablespoons of vegetable/canola oil (or ghee if you have it) in the pot.
4. Once the oil is hot, add a teaspoon of black mustard seeds, and back away quickly because you're scared of the seeds' spluttering.
5.
Toss in the onion and stir until onion is softened. Then add the bell pepper and stir until that starts to get soft.
6.
Turn off the sauté mode and toss in the rest of the veggies and the rinsed rice and daal.
8. Add this water-spice mixture and three more cups of water as well as 2 tablespoons of salt.
9.
Mix everything thoroughly and close the InstantPot, set it to the rice setting, or manual mode for 10 minutes at low pressure.
10.
Once it's done, safely quick-release the steam and open up the pot. Assess whether your creation looks more like a soup or a porridge. If soup, leave the lid off so more moisture escapes via steam. You have achieved sambar sadam once it's in a porridge state.
11.
Optional: Text a picture to the family group chat for validation and bask in the glow of approval of your basic cooking accomplishments from your patti, chittis, and chittappas.
1These are the vegetables I had at the time, but you can use other veggies such as green beans, shallots, carrots, turnips, various Asian gourds, or eggplant. Just make sure you have about 3-4 cups of veggies and everything is cut bite-sized.
2Except if you look in your cupboard and pull out what you thought was sambar powder, and it turns out to be puliogare powder. In that case, use rasam powder, which is for a different Indian stew, but is close to sambar powder in its spice mix.
3Sometimes I forget turmeric accidentally but sometimes on purpose because I think turmeric tastes like dirt, but it has so many good health properties that my mom encourages me to incorporate it in as much of my cooking as possible. It still tastes like dirt.

Akhila developed a passion for social justice while serving with City Year Seattle King County. She loves reading, binging TV shows and movies, and fangirling over most everything. She works as a technical editor for a market research company and is slowly finishing classes towards her Master's in Library Sciences from the University of Washington.