Image Description
A playful drawing of a garden using colored pencils and pen. The foreground shows a smiling orange octopus standing on green grass. One arm holding a triangle banner with the handwritten words "Carvers' Camp Canoe Family," with four heart shapes in purples and pinks. Two front arms are hugging a pot of a Blue elderberry plant. Some arms are holding a garden fork, and other plants. The front arm is holding a Native Camas plant with purple flowers and its bulb showing. Behind the octopus is a garden bed with many plants and vegetables. Top left of the drawing is handwritten text that fits inside a cloud shape outlined in blue with the words: "sqələč's Garden: Indigenous Food & Medicine Sovereignty Garden." Bottom left handwritten text: "*sqələč, the octopus." The line below: "*Southern Lushootseed language." The right side of the image is a tree with a smiling squirrel running up the trunk. On top of the tree is a bird outlined in blue watering the garden below with water in a woven cedar basket.
Backstory to my drawing: The Roots of the Garden
Since the 1980s, the Coast Salish and other Indigenous Nations have travelled as Canoe Families each summer up and down the Salish Sea on the InterTribal Canoe Journey (also called Tribal Canoe Journey), the same way their ancestors always travelled before their tradition was almost lost due to colonialism. The direction of the Journey depends on which Nation or Tribe is the year's host. The Paddle to Lummi 2019 had over 100 canoes land, and over 10,000 people joined in the Journey.
The octopus in the drawing is special because she represents the Umiak our Canoe Family journeys in. An Umiak is a type of canoe. Ours is named sqələč, the Southern Lushootseed word for octopus. (Southern Lushootseed is the language spoken mainly by Duwamish, Puyallup, Suquamish, Nisqually, Muckleshoot, Snoqualmie and Squaxin Tribes. In the general areas now called Seattle down to Olympia in Washington.) Our Umiak and most of our Canoe Family members live in this area. Our Umiak has an octopus design on her sides. 
We were all looking forward to joining the InterTribal Canoe Journey last summer with sqələč. To the excitement of being out on big water in the small open umiak. And spending about two weeks camping along the beautiful Salish Sea, ending with the week-long, formal tradition of gifts exchange, thanks and dance. Also with meeting new friends and old from other Canoe Families.
But due to the pandemic, the 2020 Paddle to Snuneymuxw, to Nanaimo, British Columbia, was cancelled. Even though we were glad to protect each other and the larger community, it was so disappointing!
Canoe Journey is a very healing inner journey. When it was cancelled, a few members of our Canoe Family got together to do something different. We wanted a safe and healing way to come together again. We came together to create a food and medicine garden for one of our elders, Philip H. Red Eagle (Dakota and Salish). He is one of the important people who helped shape the Canoe Journey movement! Philip H. Red Eagle is also the person who invited me into his Canoe Family as a non-Native person. Always busy and helping others, he has never had a garden.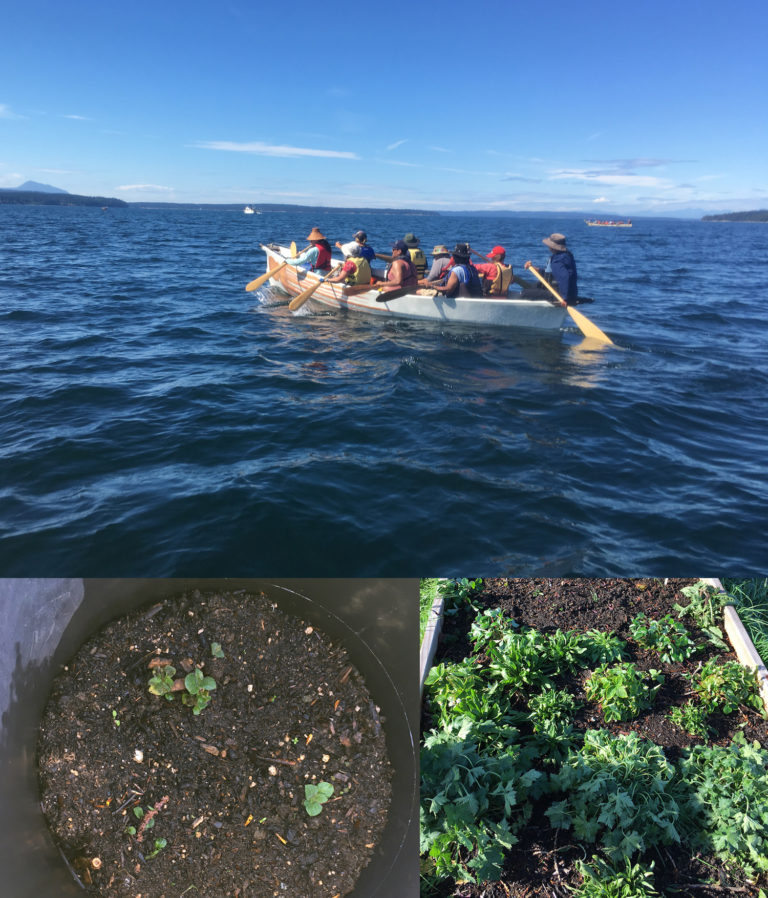 Friends and allies helped donate Native plants, herbs, seeds and soil. We shared a feeling of family and happiness to create something healing during the pandemic. We finished the garden beds on Indigenous Peoples' Day 2020. Happy to celebrate in such a special way.
Usually, our Canoe Family connects with the Salish Sea, but this time we connected with the land. Digging and planting together we grow roots in a different way. It is an unexpected gift to have the time and energy to focus on the land, and give back to our elder who is one of the visionaries of the Tribal Canoe Journey's Resurgence movement all those years ago.

I am a recent University of Washington graduate with a dual major in American Indian Studies and Comparative History of Ideas. In 2020, my art was published in the Raven Chronicles Press's Anthology, Take a Stand: Art Against Hate. My intersecting identities bring awareness to stories in the margin. An invited member of a Coast Salish open Canoe Family, I am a puller in our Umiak named sqələč, 'the octopus'. Indigenous Sovereignty is close to my heart. I've been deeply influenced by the sea, plants and animals of Thailand, where I grew up.